FRITZ GOES FASHION! Le Meridien Vienna
Published Mrz 08, 2012
"FRITZ GOES FASHION!" ROOM 810
Fritz Maierhofer's work exists in a world that is vibrant and diverse. He is not the kind of artist who, having come across a successful idea, contentedly replicates it ad infinitum. He is constantly discovering new materials, absorbing new inspiration into his work.
This time he is getting involved in fashion.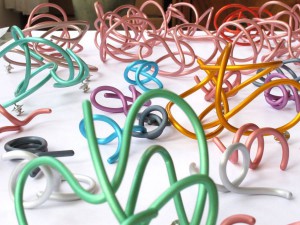 "FRITZ GOES FASHION AND SPRINGY!"
A new collection of necklaces, brooches, rings and bracelets in colourful aluminium!
Le Meridien Wien
Fashion CHECK-IN 2012
23.03.2012 – Begins at 18:00
The Work




At the Show