"die lange nacht der schmuckkunst"
Published Nov 02, 2009
Kathryn Partington SCHMUCK aus Großbritannien
10. November 2009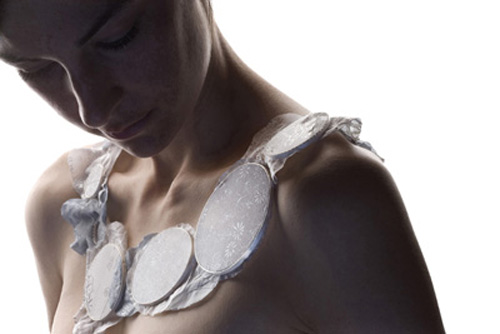 Kathryn produces one-off wearable items of jewellery by utilising her background training within the discipline of tableware ceramics & printed textiles. By combining these skills the application of surface pattern & ornamentation is explored by using a diverse range of processes and material manipulation. This leads to a juxtaposition of simple to complex compositions by placement & layering to form pieces that can be considered as not just items of jewellery but pieces of art within their own right.
Works include the combination of natural and hand dyed screen-printed silks, hand engraved slip cast bone china, decorative applications of pattern to silver and metals in unconventional ways. This enables the creation of jewellery pieces that are extremely unique within the arena
of contemporary jewellery, craft & fashion.
Collections:
Ethereal: Embellishments are inspired by an 1890 Victorian adaptation of a Japanese style tableware pattern, which is symbolic of the dialogue that exists then & now between Eastern & Western ideas of design. Colours are muted, delicate in tone, precious and subtle, informed by characteristics and Kathryn's interpretation of the Japanese aesthetic.
Opulence: A twist on the above yet the colour palette is rich, dark and exuberant.
Decadence: Inspired by Indian patterns from traditional textile prints & embroideries. Vibrant colours & decoration make up this range & the same motives of aesthetics are applied.
Phoenix: Based upon a Chinese paper cut and decorations from Shanghai, China. The colour Red dominates this collection with bright accent colours in some pieces.
WEB www.kathrynpartington.com
IM ATELIER FRITZ MAIERHOFER
CONTEMPORARY JEWELLERY PLUS ……
GENTZGASSE 103 1180 – WIEN TEL +43 699 19441084